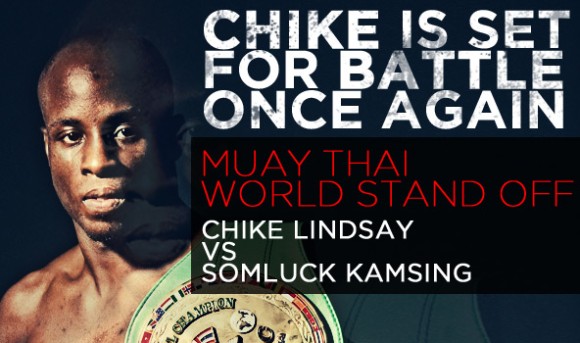 We caught up with the ever busy Chike Lindsay this past week to talk about his upcoming fioght with Somluck Khamsing at Pushkick promotions Muay THai World Stand Off.

BFN: Tell us about your Opponent and what your fans can expect from him?
CL: Somluck khamsing: he won the 96 Olympic gold medal in boxing. He mixes his boxing movement with Muay Thai for a unique style.
BFN: Whats going on in your training camp in prep for Somluck?
CL: We've been doing training to combat his specific style.
BFN: Who's helping you train for Somluck?
CL: Troy Quick and Paul Tran are putting in a lot of time with me as usual.
BFN: Does the fact Somluck has taken a good bit of time off from Muay Thai prior to this year effect your camp, or is it business as usual?
CL: He had been very active on the last several months so that aspect isn't really an issue.
BFN:  What are your expectations for the bout?
CL: I will win.

Follow Chike on FB and keep up with his ever busy schedule.
Check out his site and learn more about the Vicious Croc.