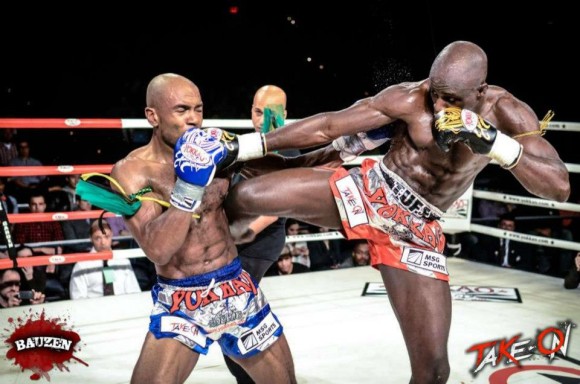 Chike took on Cyrus Wahington this past weekend in New York at Madison Square Garden for Take On Productions "Muay Thai at the MECCA 2″
The fight was steady paced from start to finish. For every strike Cyrus offered Chike had an answer. Cyrus Washington is always a dangerous opponent, he has explosive attacks and delivers serious power when he connects. From the start of the first round both Chike and Cyrus were trading explosive combinations and using the majority of the ring. By the third round Chike began to utilize his clinch and really start to dominate the fight. Striking all levels with kicks, knees and punches, the action went rite up to the final bell. Chike was announced the victor winning all rounds and walking away with a Unanimous decision.
"Take-On Productions returned to the theater at Madison Square Garden this weekend with Muay Thai at the Mecca 2. The night's fights were action packed and headlined by Chike Lindsay and Cyrus Washington.
Both fighters started out fairly even in the fight with strong kicks, but as the rounds started to pass Lindsay began to find his tempo and started to pull away. Washington was more than willing to engage with, but Lindsay seemed to be just a step ahead as he was more accurate with his strikes. In the end the judges scored the bout a unanimous decision victory for Lindsay with scores of 50-45 twice and 49-46 once."
photos by Steve BAUZEN